The Ultimate Quick Guide
to Beginner Golf
in the Greater Toronto Area
Introduction

So you want to learn how to golf? If you are an absolute beginner and you want to know the basics, this article is for you. Even if you've golfed for a while there might be some tips in here that will help you. For everyone's sake, getting a refresher on golf etiquette will only help the game.
Let's get started! If you want to jump to a specific section just click any link below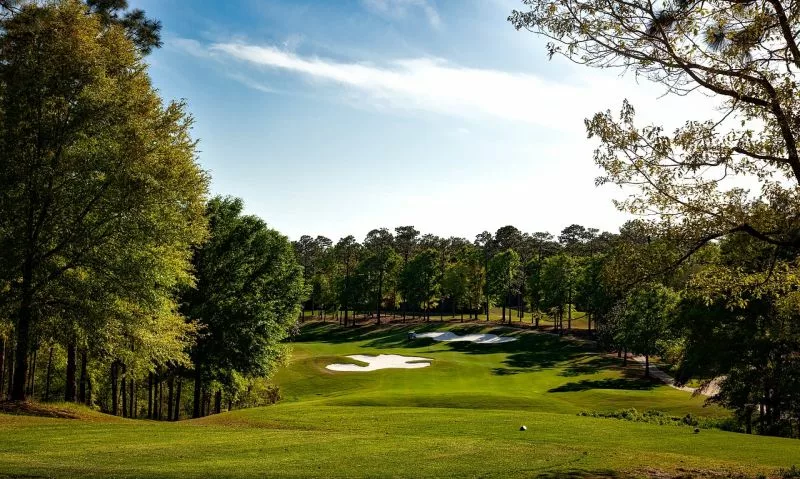 Basics of the game
The objective of the game of golf is to get a ball into a hole by hitting it with a golf club. You want to do this with the fewest number of swings possible. Repeat for 18 holes.
Let's break it down a bit further. There are 18 distinct "holes" in golf. Each hole will be rated as either a "par 3", "par 4", or "par 5". "Par" is essentially the number of shots on a hole that equate to "even". If you take less shots than par then that is good. If you take more shots than par then it's not so good. The reality for beginners is that you probably won't even come close to these numbers, so let's just have some fun.
Normally a golf round consists of playing 18 holes, but there are many ways to play the game just for fun. 9 hole courses are great if you don't have a lot of time. Many full courses will let you start the back nine (holes 10 to 18) during the first few hours of the day. Twilight rates are when you start near the end of the day and you won't have enough time to finish the whole round. The tradeoff will be a reduced fee to play. There are also par 3 courses where every hole is a par 3. Finally there are executive courses that typically only have shorter par 3 and par 4 holes.
Where to learn golf?

Learn Golf from Friends and Family
The majority of people will get introduced to golf through friends and family. For beginners to the game of golf this is a perfect way to start. Your friend will likely have enough knowledge and skill to teach you the basics of the golf swing. Unless you are aspiring to play on a professional tour, you really don't need a "top 100" PGA teaching pro.
If you really start enjoying the game and want to accelerate your improvement, then consider some other ways to learn the game.
Learn Golf by Yourself
Some people love the DIY approach. If this is you, then this truly is the easiest time to learn golf on your own. Many years ago the best ways to learn on your own was to read Golf magazines and watch VHS tapes of golf teachers. There are still plenty of books you can buy that cover the basics of the golf swing.
But now there are so many free resources on the Internet. Youtube is obviously filled with golf tutorial videos from a wide variety of teachers. Same with Facebook, Instagram and TikTok. Don't get stuck there though. There are so many amateur golfers who are passionate about golf and they create their own websites to provide free tutorials. Finally, there has been a strong push for AI golf swing apps. At the time of this article being published (2023), they are in the early stages so they could steer you in the wrong direction if you're not careful.
Learn Golf through Online Lessons
If you don't have the biggest budget but would still like to learn in a structured environment with a professional, there are a number of highly qualified teachers providing online courses and lessons. This has really evolved over the last few years and you can join a small community for as little as $100 per year.
Can you find most of these same videos online? Yes and no. There will be unique videos exclusive to members, but there is also a solid benefit for access to a curated list of tutorials that are organised in a way to maximise your progress. Some of these courses also provide a method to communicate with the teachers to get more clarification on the videos.
In addition to the standard courses, some of these online solutions also provide the option to take lessons through swing reviews. Many teachers provide unlimited swing reviews where you work on your drills, record yourself, submit to the teacher and within a short time they will provide feedback.
Learn Golf through Traditional in-person Lessons
The most expensive option but also the most effective way to learn the game from the start. Professional teachers truly have years of experience watching and fixing a variety of swings. There are so many things going on in the golf swing that a beginner can get confused quite quickly. A great teacher can spot the main faults and get you focused on the drills needed for the best results at that moment. Also, when you have someone monitoring you in realtime, your faults can get corrected immediately.
In-person lessons, however, can get expensive. For beginners, finding a group lesson is a great way to save costs but also get the experience of a professional.
How to Select the Right Golf Instructor
We have created a short checklist to help you in your journey to select the right coach for you. You should revisit this every once in a while, as over time you may change coaches as your golf swing progresses.
Chemistry and Fit
Your relationship with your coach needs to be built on trust. Take time to evaluate their personality and think about how this relationship will progress over time. There is obviously the main goal of improving your golf game, but this is also for fun and entertainment. You should be enjoying yourself while you learn and get better. Golf is a mental game and your coach is part of your team.
Communication
Open and comfortable communication between you and your coach is also vital. Communicating concepts in a clear and concise manner is important to help you to apply the techniques properly.
This is also a multicultural country and world. If you are more comfortable receiving instruction in a different language then that should absolutely be a part of your selection criteria. We are quite proud to see the complete spectrum of people at our facilities, including coaches who speak a variety of languages.
Accreditation
Many people or websites will tell you PGA membership is important in selecting a teacher. Certainly there are a set of basic tests that a CPGA or CGTF professional will be required to complete. While it is an indicator of some skill and demonstrates a level of dedication to the teaching profession, it is only one variable in assessing the quality of instruction.
We think you should find a coach that is a true student of the game and constantly learning the swing and how to teach. Does your coach truly understand the golf swing and the sequencing of events to create a positive result?
Track Record
As with hiring any other professional service, conduct some research with their online presence. Get references or testimonials from friends or current students. If your golf goals are more specific, then absolutely dig deeper into the success records of your specific needs.
Golf Swing Philosophy
For more advanced players it is important to understand the coach's golf swing philosophy. Some coaches may be more inclined to break down your swing completely while others may insist on working with smaller adjustments.
Equipment

Shopping for golf equipment can be an endless journey. There are the basics and there are a million other tools, gadgets, clothes, training aids and useless golf joke items to buy. In this article we will try to keep it simple.
If you are a beginner, then you should be starting at the driving range. Once you get better at striking the ball then you can move on to some easier golf courses.
Golf Equipment for the Driving Range
Some driving ranges rent clubs, but if you are reading this article then you probably have a small level of commitment to trying this game. It's worth a small investment to buy your own equipment. A full set of golf clubs to play a course is 14 clubs, but to go to the driving range, you only need one club. It's great if you can get a hand-me-down, or you can buy used from a number of different places.
One club. A pitching wedge (PW), 9-iron, 8-iron, or 7-iron will get you started.
What about golf balls? All outdoor golf ranges supply golf balls and most indoor golf facilities supply balls as well.
If you want to commit more, then consider a starter set of golf clubs. A full set of clubs can really be confusing for beginners. Starter sets typically come with 6 or 7 clubs and a basic bag.
Here's our suggestion for a bare minimum set.
Driver

7 iron

Pitching Wedge

Putter
Golf Equipment for the Golf Course
Once you start going to the golf course, the equipment you require will start adding up. If you have the budget, then by all means buy the latest and greatest to your heart's content. Let's start with the minimum required, then add more as you get better.
Golf clubs

Golf balls

Golf bag

Glove

Tees

Ball marker

Divot repair tool

Golf towel
Golf Clubs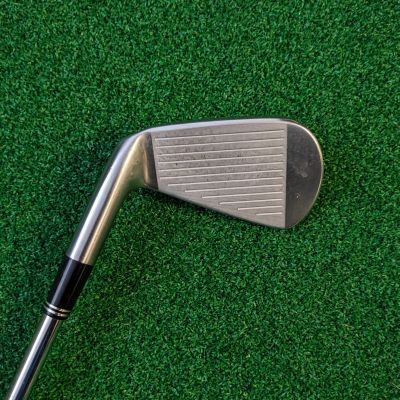 By now you should have a set of clubs from practicing at the driving range.
Golf Balls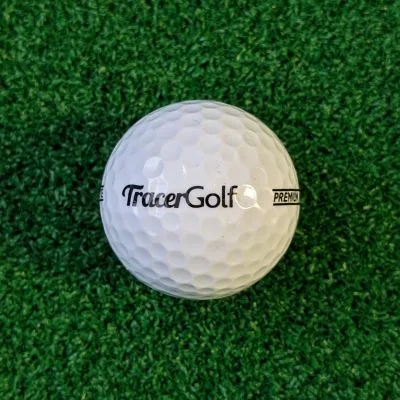 You will lose a lot of golf balls. As a beginner you will not be able to tell the difference between a Tour level ball and a distance ball. Don't spend $5 per golf ball. Find a good source for golf balls and try to keep it close to $1 per ball. If you lose 10 balls a round, that cost can really add up.
As a beginner you will probably be spending a lot of time searching for your ball in the bushes or trees. The great thing about this is that you will probably find a lot of lost balls. Sometimes you lose one and find three. There is some etiquette to follow when picking up balls on the course. Just make sure you are not picking up someone else's ball and you are not spending 5 minutes in the bushes.
What about taking a few balls from the range? Golf is a game of etiquette. Just don't.
Golf Bag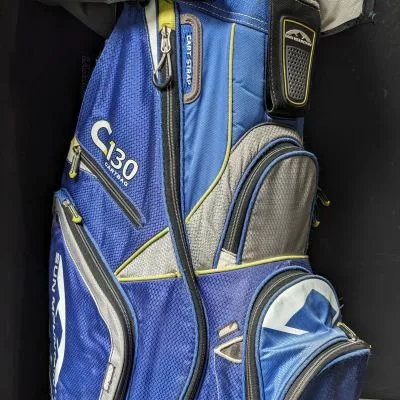 You need a golf bag to carry your clubs. Before you decide on a bag, you need to decide on how you are going to traverse the golf course. If you are going to rent a golf cart or use a pull/push cart, then definitely get a larger cart bag. You should have enough space for now and in the future.
If you think you might enjoy walking the course more, then a stand bag might be a good fit. These are generally lightweight and you can carry them like a backpack.
Once you play enough, then you may want to invest in a pull or push cart. For now, you can rent a pull cart at all courses for a small fee.
Golf Glove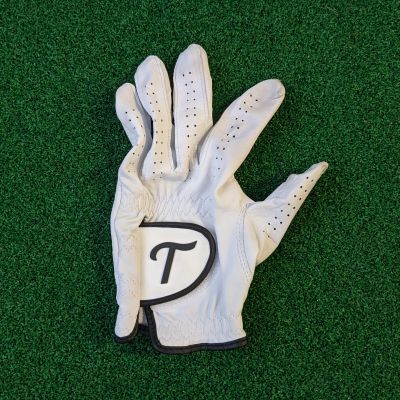 Do you absolutely need a golf glove? No, but it does help with ensuring a good grip and connection with the golf club without having to grip it too tight. Generally you wear a golf glove on your non-dominant hand. There are some golfers that use no gloves and some that use two gloves. Do whatever makes you feel comfortable.
Tees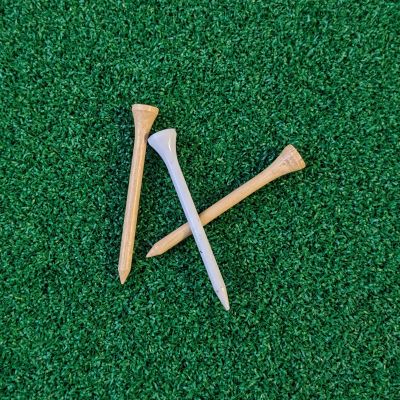 These are the tiny wooden (or plastic) objects that stick into the ground. The ball is balanced on top of the tee. You can buy these at any golf store or the pro shop. A lot of times you will find whole tees lying around the tee box at the start of each hole. Even broken tees that are long enough are great for par 3 holes where you tee it up but not very high.
Ball Marker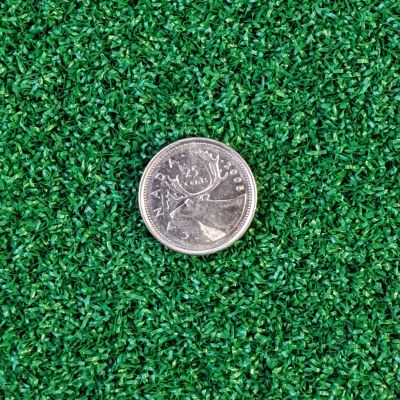 Don't need anything fancy here. A coin, poker chip or something similar. This is used on the green so you can mark the location of your ball, pick it up, clean it and place it back in the same spot.
Pitch Mark Repair Tool
This is often overlooked. There are far too many people who don't use this tool which results in a bad putting green. It's up to all golfers to help maintain the quality of the golf course. If you have the time to fix your ball mark and another, you will earn some great golfing karma.
As a beginner you will probably not be making these marks for a while, but get in the habit now. Your more experienced playing partners will definitely be impressed.
Check out this great tutorial on how to use a divot repair tool properly.
Golf Towel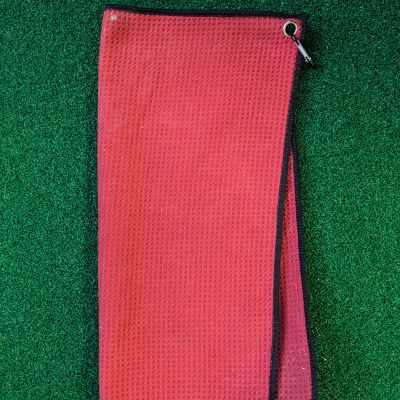 There are two parts to the golf club that require the towel. Your club head will often get dirt on it. Use the towel to remove the dirt and try to get all the dirt out of the grooves. Having a damp section of the towel can help in this process. You can also use the towel to rub the grip and make sure it is clean and tacky. The tackiness of the grip helps you to apply the correct amount of grip pressure. If the grip is slick and slippery then you will be required to grip hard. This brings tension into your swing and poor results.
You can also use the golf towel to clean your ball. On the golf course there are usually ball washers at some of the start of the holes. At some of your budget friendly courses these may be 2 to 3 holes apart. Also, sometimes the crew forget to put soapy water in the washers. Use your golf towel to clean your ball.
Beginner Golf Practice
In order to get better at golf you need to practice. There are no shortcuts. That means golf can get expensive, but don't worry, there are a lot of things you can practice at home for free.
Free practice at home
Grip
Grab a club and practice your grip every chance you get. Practice both your hand position and your grip pressure. Leave a club at home and at work. If you're somewhere without a club just use a pen or nothing at all.
Posture
This is better if you have a full length mirror. Or take a video of yourself and compare yourself to professionals. Stand up tall and then get into your golf posture. Stand up and repeat. Repetition is key.
Putting
If you have a floor you can practice putting. Anyone can practice putting at home. Focus on hitting the center of the putter face. Hitting it straight is important but distance control is more important right now. At home you won't be able to hit putts that are 30 feet long, but you should be able to feel what it's like to hit it 5, 10 or 15 feet.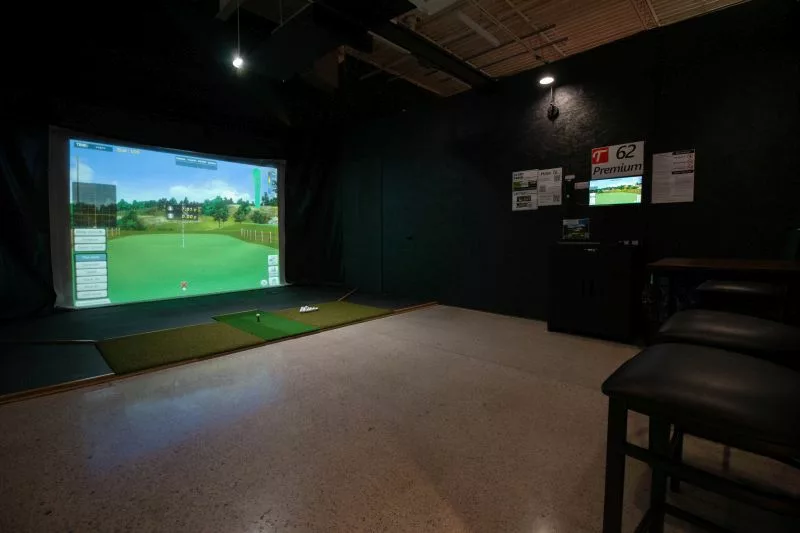 Indoor driving range
For beginner golfers, practicing at an indoor golf facility can be the best way to learn. While golf is an outdoor sport, there are numerous advantages to practicing indoors.
Golf balls and hitting mats at outdoor ranges can get beat up pretty quickly. Balls are hitting rocks and concrete and both balls and mats are exposed to the outdoor elements constantly. Hopefully the indoor golf facility rotates their balls and mats frequently. Also, you have the power to use your own balls if you prefer.
Privacy is often overlooked for practice. When you are just starting out it can be a bit embarrassing when you swing and miss the ball completely. Once this happens, you experience more pressure and your body tenses up. From here you simply can't learn your swing efficiently. Outdoor ranges are all open and typically have a long line of hitting mats next to each other so there really is no privacy.
When selecting an indoor golf facility make sure you select one with some privacy as opposed to "open" bays. Indoor facilities should have a virtual tour so you can truly visualize what it will be like to practice there.
With the weather getting more and more unpredictable, indoor golf is fast becoming the best solution to practice. It's just not a great feeling practicing in the rain.
Some of the great advantages of indoor driving ranges is the ability to see the ball flight better and have correct alignment. Some facilities also have the ability to see the location of the ball on the club at impact, which can really help you improve quickly. As a beginner your priority is to develop a reliable swing to hit the ball consistently. As you get better you can look at the ball and club data. Outdoor ranges typically only have the distances to a few flags, but it can be difficult to trust since you don't know where the measurement is being taken from.
Check out this great resource for indoor golf facilities in the GTA.
Outdoor driving range
When the weather is nice, there's nothing like golfing outdoors. Hitting balls with the sun shining and a nice cool breeze is such a great feeling.
If you are able to find a quality outdoor range, then as you get better you will be able to hit off of grass. Finding good grass tees can help the transition to the course. Unfortunately, it is difficult to find grass tees that are in good condition. Also note that driving ranges typically charge a little extra to use the grass tees.
Outdoor ranges will often have putting greens so you can work on that short game. While putting indoors is helpful, it's always good to get experience on real grass. Some driving ranges will also have bunkers. If you are just beginning then you probably don't need that, but later on hitting out of the sandtrap is a skill you should definitely work on.
If you're looking for outdoor golf driving ranges in the GTA, this article can help.
Play Golf
Indoor golf courses
For a beginner, playing golf on an indoor golf simulator is a great way to start learning the game. You can focus entirely on your swing and the game without being self conscious about other golfers around you.
You can begin to understand how golf is scored and generally the difference between par 3, par 4 and par 5 holes. Some courses are longer than others and some are narrow which require a higher level of accuracy. It's great to be able to experience these different levels of courses without the frustration of hunting in the bushes for your ball after every shot.
Playing golf indoors can also really help you to understand club selection. When you get better data and can also see more clearly where your ball lands, you get immediate feedback about your club selection. You also have the ability to replay a shot indoors.
Most professionals will tell you that amateur golfers often select clubs that are too short. Just because you hit your 7 iron 150 yards one time, doesn't mean you should use that club everytime you are 150 yards out. When golfing indoors these nuances become apparent more quickly.
Outdoor golf courses
As a beginner you may be worried about other people watching you or missing the ball and being embarrassed. Here is the secret. If you are great with your golf etiquette, most golfers don't care if you are not good. This is a chance for you to show people what kind of person you are in the face of adversity.
Selecting a Golf Course
Of course price is always a factor but what is also important is the difficulty of the golf course. Even for intermediate golfers, if you pick a difficult course you will not have a good time. Par 3 or executive courses tend to be shorter and easier to play.
Making a Booking at a Golf Course
Technology has made things easier. You can now book online at most golf courses. Online reservation systems will display the times available and also how many spots are available at that time. As a beginner it's best to go with someone experienced and let them make the bookings for you. Once you've golfed a few times you can make your own bookings, but beware that some courses don't allow online bookings for single players.
If you prefer to speak to someone or if the golf course doesn't offer an online option, just call them up and ask to see what's available. "Hi, do you have any opening on Tuesday around 10am for a foursome?"
Arrival and Preparation
Make sure you allow plenty of time to arrive before your tee time. When you arrive, head to the pro shop and let them know your reservation details. Pay for your green fee if you haven't already done so online. If you've paid for a cart, you will be told your cart number and where to pick it up or if you paid for a pull cart they are usually right outside the pro shop..
Now you can go to the starter who is located at the first tee, usually in a small little hut. Let the starter know you've arrived and they will then announce when you are ready to go. You will hear things like "Now on the tee, the Smith foursome. On deck, the Brown twosome and the Miller twosome".
If you arrive early enough you will have plenty of time to stretch and practice on the putting green. Many golf courses don't allow chipping on the putting green so please look for the signs and respect the local rules. You can also get mentally prepared for your round of golf. Make sure you enjoy the weather, the scenery, the game and your playing partners' company.
On the Tee
Please pick the appropriate tee box. You are a beginner golfer. There is no reason for you to be using the far tees (typically blue, black or gold). You should be choosing the red or white tees and this selection is based on your driver distance and the length of the golf course.
When your playing partners are hitting, be quiet. Also, if you are close to other players who are about to swing, please try to keep it down. Sound travels well in the open air.
Safety Note: Yell Fore!
As a beginner you will be hitting a lot of shots that don't go where you want them. If you see your ball flying anywhere in the direction of someone, yell "Fore!" as loud as you can. This is no time to feel embarrassed. This is a time for safety and to give the people as much time as possible to react and protect themselves.
When it's your turn, tee up your ball and swing with confidence. How do you tee it up? Hold the golf ball in your hand with the tee's larger end on the ball. The shaft of the tee will be between your index and middle fingers. Poke the tee into the ground using the golf ball to push it in. You will figure out how high you should put the tee in the ground over time. For now, if you are hitting a wood try to get the ball to sit with about half the ball showing above the club when it's resting on the ground. For an iron, having the ball sit just a bit above the ground will work.
Make sure you watch your ball completely until it comes to a complete stop. Remember that location and when all members of your group have hit, grab your clubs and go find your ball. Constantly searching for your ball adds stress and often causes the golfer to rush their pre-shot routine..
Near the green
If you are riding a golf cart then follow the signs and path. You will park the car typically on the side or behind the green. If your ball is on the green then just take your putter. If you are off the green then take an appropriate club for that shot too.
If you are walking then leave your clubs toward the side or back. When you finish your hole you will not be holding up the players behind you. It's just good golf etiquette.
On the Green
Once you get on the putting green you need to be able to mark your ball so you can pick it up and clean it. It's also important to mark your ball if you are between someone else's ball and the hole. You should make sure not to walk on another golfer's putting line. This would be a line between the golf ball and the hole. It is poor etiquette to walk across that line and you might also be creating indentations in the green that will affect your playing partner's next shot. Just try to walk behind the golf ball.
Once your group finishes the hole, make your way to the next tee quickly. You can count your shots as you walk away to allow the group behind you to play.
Congratulations. You've just completed your first golf hole.