Canada's FIRST Automated Indoor Golf Range and Golf Simulator Facility!
Canada's FIRST Automated Indoor Golf Range and Golf Simulator Facility!
A New Indoor Golf Driving Range Concept
INDOOR GOLF DRIVING RANGE
Every mat is equipped with a launch monitor so you can see the shot tracer for every shot, along with all your ball flight data!  Know your numbers and practice like a pro.
Golf Simulator
That's right. Play 50 courses to enhance your training at no extra cost!
Course management, club selection and game play pressure. All critical to improving your game.
$18/hr* Unlimited balls
You won't find a better deal in the GTA and you don't have to commit to a membership or bulk purchases. *Rates vary by location. Practice More. Play More. Improve Faster.
Fully automated
Our PATENT PENDING technology makes it simple. Pay online, arrive and get to work on improving your game.  No on duty staff, no lineups and no waiting. Reducing our costs to save you money.
iNDOOR 24/7/365
Need to relieve some stress at 2am? No problem! We're open all day, every day so you can hit balls on your schedule with no waiting via smart phone reservations.
The Tracer Golf Difference
No Staff on Site? No Problem!
Our remote staff is a click or a call away to answer any question or issues you have.  Support hours are 8am – 9pm daily.
Full Video Library and FAQ
Make every minute count by doing your homework before you arrive. Our video tutorial library will teach you everything you need to know to get you upto speed so you can start improving faster!
Direct Phone Line in Every Bay
Whether it's to help you with software settings or technical issues, our friendly support staff is standing by to assist.
High Tech
Bringing golf ranges into the 21st century, Tracer Golf's patent pending technology combines the latest SMART IoT, eCOMMERCE and TRACER technologies.
Incredibly accurate launch monitor and golf simulator at EVERY mat. See all of your ball flight data and practice like a pro. For beginners, seeing your club path and true ball flight is vital to improving. For better players, understanding the numbers can help take your game to the next level. 
Click Below To Learn More About Our Simulator Technology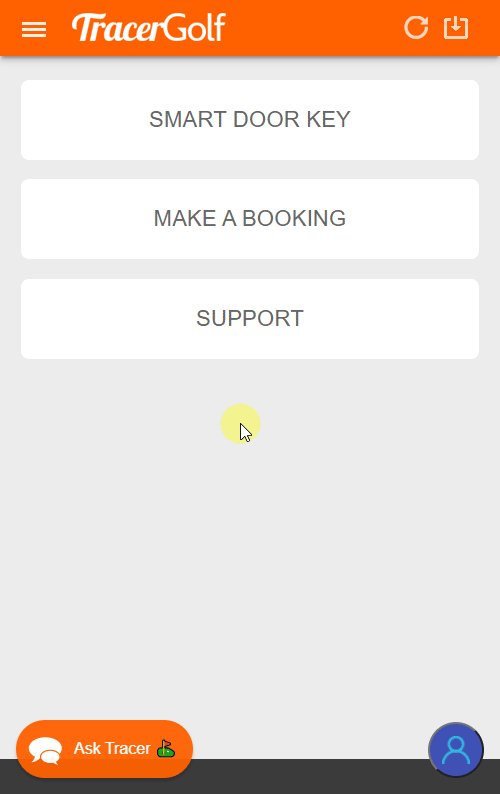 PATENT PENDING AUTOMATION
With no staff on site, bookings are done online and access to the facility is by a simple click of a button in the Tracer Golf App.   Equipment turns on and off automatically based on your booking and balls return to you automatically. Simple.
Streamlined and most efficient way to practice and play
No lost time waiting in line at the cash register.

No lost time having to get more balls to hit.

No lost time waiting for a mat to open up in prime time.

Launch monitor data to help make your sessions more productive.

Free Wifi while you practice so you can practice along with your favorite YouTube golf pro.

Practice on your schedule not ours.  We're open 24/7.
Teaching Professionals
Let us know if you're interested in making Tracer Golf your home to host your students.
eGift Cards
Give the gift of golf!
1 or 2 hour eGift Cards
Group Bookings
Adult Birthday Parties & Corporate Events.   A budget friendly choice.