PRACTICE MORE
IMPROVE FASTER
Canada's FIRST
AUTOMATED LAUNCH MONITOR Golf Range
and
Golf Simulator Facility!
Book Now
LAUNCH MONITOR DRIVING RANGE
Every mat is equipped with a launch monitor so you can see the shot tracer for every shot, along with all your ball flight data!  Know your numbers and practice like a pro.
Golf Simulator
That's right. Play 50 courses to enhance your training at no extra cost!
Course management, club selection and game play pressure. All critical to improving your game.
$16/hr* Unlimited balls
You won't find a better deal in the GTA and you don't have to commit to a membership or bulk purchases. *Rates vary by location. Practice More. Play More. Improve Faster.
Fully automated
Our PATENT PENDING technology makes it simple. Pay online, arrive and get to work on improving your game.  No on duty staff, no lineups and no waiting. Reducing our costs to save you money.
iNDOOR 24/7/365
Need to relieve some stress at 2am? No problem! We're open all day, every day so you can hit balls on your schedule with no waiting via smart phone reservations.
The Tracer Golf Difference
PATENT PENDING AUTOMATION
With no staff on site, bookings are done online and access to the facility is by a simple click of a button in the Tracer Golf App.   Equipment turns on and off automatically based on your booking and balls return to you automatically. Simple.
Streamlined and most efficient way to practice and play
No lost time waiting in line at the cash register.

No lost time having to get more balls to hit.

No lost time waiting for a mat to open up in prime time.

Launch monitor data to help make your sessions more productive.

Free Wifi while you practice so you can practice along with your favorite YouTube golf pro.

Practice on your schedule not ours.  We're open 24/7.
HIGH TECH
Bringing golf ranges into the 21st century, Tracer Golf's patent pending technology combines the latest SMART IoT, eCOMMERCE and TRACER technologies.
Incredibly accurate launch monitor and golf simulator at EVERY mat. See all of your ball flight data and practice like a pro. For beginners, seeing your club path and true ball flight is vital to improving. For better players, understanding the numbers can help take your game to the next level. 
LAUNCH MONITOR DRIVING RANGE
Data
Advanced launch monitor with high speed camera tracking gives you access to key stats:
Distance
Club speed
Ball speed

Launch angles

Spin rates and more
Club View
With overhead video recording you can see your club path and the actual moment of impact as the club strikes the ball in slow motion.
Toe hit? Heel hit? Get to the sweet spot and gain more distance.
4 Ranges in One
Really want to lower your score? Practice your short game on the approach shot range, chipping range and putting range.
Virtual Hole Practice
Take your skills to a practice hole on a course and simulate real life situations. Hit over a bunker with little green to work with? What is the smart play for your game? Hit 10 shots and see how many times you actually get it close.
Choose from one of the 50 golf simulator courses available including Pebble Beach and St. Andrews.
Test your skills in virtual golf situations.
Play with friends and increase the pressure.

Practice smart course management skills and miss in the right spots.

Play in diverse conditions and learn to adjust your yardages to adapt.
Whether its sharpening your skills or just enjoying the game play, no other golf facility in the GTA offers this much value
Practice More. Play More. Improve Faster.
Swing Vision Camera System
Get instant video replays of your swing!
Available in Premium bays only.
Click here to learn more about the Swing Vision CS.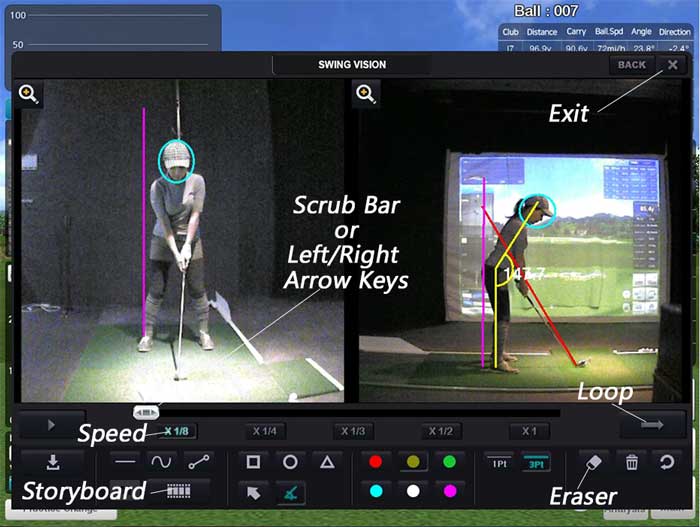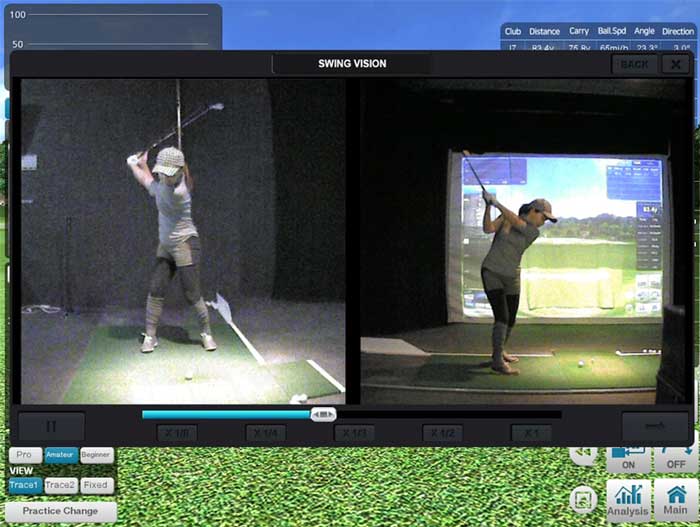 Step 1
Pick Your Time Slot and Purchase
Click on the BOOK NOW button to view available time slots.
Select the day you want to view in the top left corner. Bookings can be made on the same day and up to 3 days in advance. We do recommend booking at least 1 hour before your start time.
When you're ready, click the
symbol in the bottom right corner, fill in the booking details and pay. Please make sure you select the right location and the right time of day (AM or PM). 
Once you have finished payment you will receive a confirmation email.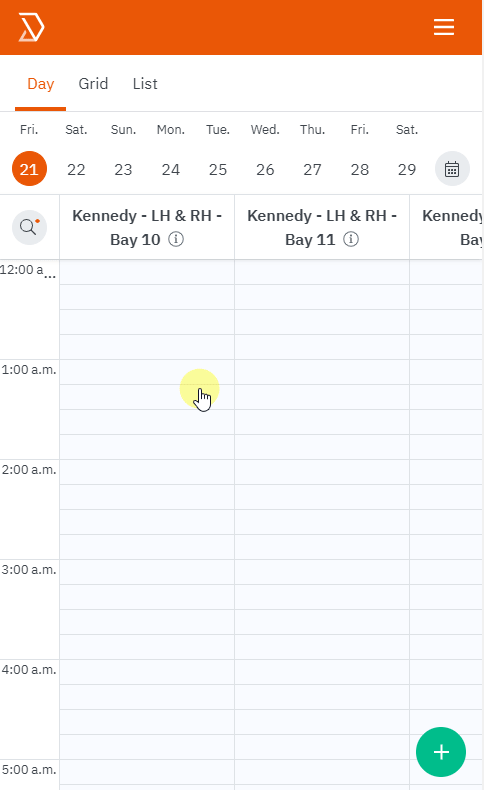 Step 2
Arrive and Enter
Entry to the facility is through the Smart Door Key in the Tracer Golf App.
Before you arrive, install the app by going to app.tracergolf.ca and use your email address to login. This is a progressive web app that operates similar to a native app. Our Tracer Golf App can not be downloaded from any app store.
Simply login with the same email address you used to make your booking. Please save this to your mobile home screen.
When you arrive press the Smart Door Key, wait for the door to beep and open the door.
Please note:
The Tracer Golf App is different from the booking service.
You must use the same email address that you used to make your booking.
Remember to save this app to your home screen on your mobile device for easy access
Make sure you watch the How to Enter Tutorial so you know what to do when you arrive.
You will need internet access for your key to work.  Don't worry, free WiFi will be available at the door.  Check your email for details.
Remember to bring your clubs. We do not provide club rentals at any of our locations.
Step 3
Start Your Training Session
Go to your selected bay, warm up and start improving your game!  Lights and projector will turn on automatically at your START time.   Balls will be available in the bay.
Quickstart – Driving Range
Step 4
Tell Your Friends!
Spread the word and help us roll out more locations.  We may even open up in your neighbourhood!
Click here to check out more Google reviews.