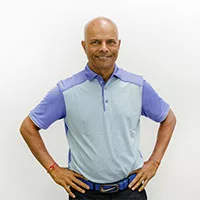 I don't believe in beating golf balls to get better.
Kumar Cherla

CGTF Teaching Professional


Rates
$130/hr +tax
Min Session Length: 1 hr
Max # of students/session: 2
Cancellation Policy: 24 hrs
Book a Lesson at your favorite Tracer Golf location now!
*Remember to book the bay before you book a lesson*
About Kumar
Teaches in: English
Professional Accreditation:

(View Certificate)

Teaching Method
Kumar teaches Feel Golf: the ability to hit down-the-line shots – even if you haven't played for months. With over 30 years of competing, playing and teaching experience, the concept of 'You have to hit lots of golf balls and play a lot to get better' does not exist in his lexicon.
Mathematically trained from Waterloo University, Kumar has developed new and exciting teaching techniques and measurements that reveal why your current swing is not getting the desired results.
If you are an existing golfer, Kumar will run video analysis and run 11 tests to diagnose your entire swing. From this, you will jointly develop a strategy of attack to remove those faults. By the end of your lesson, you will have noticeably improved.
"Have no idea where the ball will go when you are on the T box? Tired of hitting slices with your driver or hitting behind the ball?
Call me for help. I have Decades of teaching experience…
My proven STEP-STEP SYSTEM – acquired over 35 years – will take the mystery out of the game for YOU.
I teach both the Why (theory) and the How (practical) in the Golf Swing.
Here are some more concerns you might have:
0. You are constantly being beaten by your friends.
1. Hate that slice or hook!
1.1 Want to learn some key 'secrets' to lower your score?
2. Want to keep up with your spouse?
3. Want to get rid of that slice?
4. Want to shave strokes from your score and move up a level or two?
5. Want someone to turn to when your swing falters?
6. Want your kids to learn the game in a structured format?
7. Entering your company golf tournament and worried about embarrassing yourself.
8. Are you an advanced player and want someone to watch your swing and provide feedback?
9. You are an executive and want to be part of the IN GOLF scene at your organization? But you can't hit the ball well enough and don't want to be embarrassed at your company golf events or in front of management?
10. You want to take clients out and you are not confident of your skills?
I analyze your next round scorecard, provide 'homework exercises', and send you a summary of our lesson.
I even play with you on the course! (Part of your lesson package)
Lesson Samples
Check out Kumar in action with his students.