Does Markham need an automated Indoor Golf driving range?
Help us decide if we should build a facility in your city
A New Indoor Golf Driving range concept

Practice Smart
Launch monitor in every bay so you can see the shot tracer for every shot, along with all your ball flight data!

Play More
Golf simulator in every bay at no extra cost.
Choose from 50 courses including Pebble Beach and St. Andrews

Technology
Our PATENT PENDING technology makes it simple. Pay online, arrive and get to work on improving your game.  No on duty staff, no lineups and no waiting. Reducing our costs to save you money.

$18/hr Private Bays
Starting at $18/hr, our private bays allow you to focus on your game with uninterrupted practice 24/7
Vote for Markham
to have the next Tracer Golf!

Canada's first fully automated indoor golf facility has no staff on site.  
All reservations and payments are made online

Entry to the facility is via a smart phone app

All equipment turns on and off automatically based on your booking.
Open 24/7.  Practice on your schedule. Not ours!
Tracer Golf's patent pending automation, smart IoT, e-commerce and Tracer technologies combine to lower our cost and allows you to improve your golf game faster and save you money.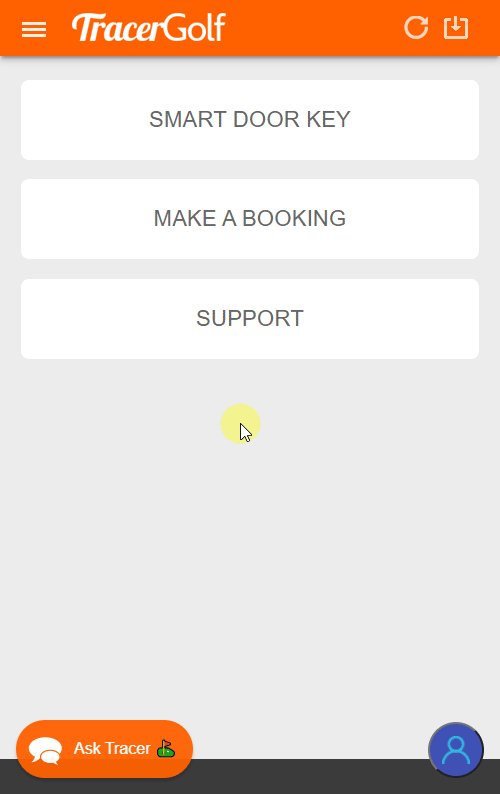 Rates.
Making Golf Affordable
Regular Bays
$18/hr per bay +tax
Unlimited balls
Up to 4 people per bay
Premium Bays
$22/hr per bay +tax
Unlimited balls
Up to 4 people per bay

What would it look like?
Check out one of our facilities

Premium Bays
Supercharge your practice session
Premium bays are equipped with our Swing Vision Camera System which seamlessly allows you to see your swing from multiple angles. Slow motion video analysis gives you invaluable feedback and allows you to fix your mistakes faster.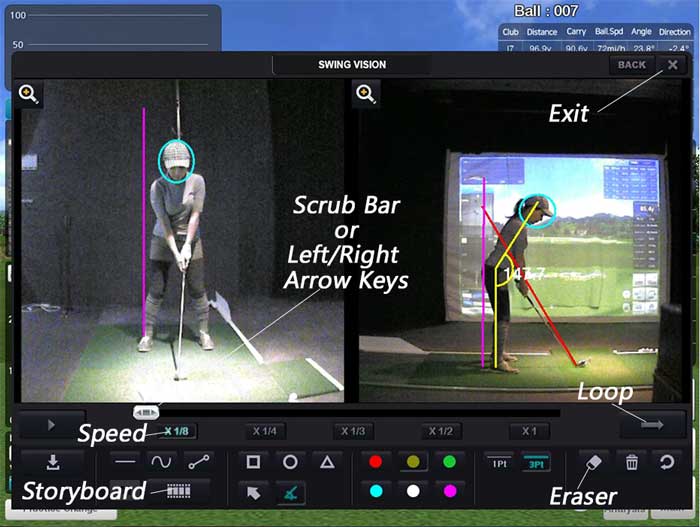 Practice Smarter
Indoor Golf Driving Range in London
Ball data and club data for all your shots

See your actual club path in slow motion

4 different ranges, including chipping and putting

Practice on a course and simulate real life conditions

Exciting Game Play
Golf Simulator in London
Choose from one of fifty golf simulator courses including Pebble Beach and St. Andrews

Play on your own or with friends

Stroke play and match play available

Realistic game play
Vote for Markham
to have the next Tracer Golf!

Love the 24/7 automated concept! Booking through the app is pretty straightforward. Instructions provided on the website are crystal clear, and there are signs around the whole venue in case you get confused at any point. Competitive prices compared to other indoor golf venues. The practice range has useful tools that help you analyze your swing, and the multitude of courses make for great fun. Has overall been a great place for me to work on my game.
Tracer Golf is a terrific concept with very reasonable rates. I visited the Pickering facility for the first time and was unsure what to expect; however, I was pleasantly surprised with the facility and liked the concept. The best part is the immediate feedback you get; the system allows you to see the analysis of your swings for each club. I hope they can have the swing data available to the users in future. I will visit again soon.
Excellent facility, very useful for improving your game. All features from booking, launching the app, to the Swing Vision camera worked as advertised. Will definitely use again.
Great place to have fun. The information you can get from your shot is invaluable when you try to improve your game. Very simple booking time layout however I made a mistake in booking PM instead of AM and received full refund. They are a reasonable team. Kudos !

We're Here To Help
Outstanding Customer Service
Video Guides
Easy to use, step by step video tutorials and FAQ section to get up to speed before you arrive.
QR Codes
Troubleshoot common issues by scanning the QR codes posted in each bay.
Phone or Chat Support
Still having issues? Our friendly support staff is standing by via chat or phone.  Just pickup the phone available at each bay and press the speed dial.

Play More, Practice More, Improve Faster